Sit-inside Kayak vs. Sit-on-Top Kayak
Which one is better for you?
There are many factors that contribute to which kayak styles might be best for you. Sometimes the kayak style that is best can be determined on many other factors besides personal preference.
The biggest difference is the way that the kayaker is situated into the kayak when in a paddling position. There are Pro's and Con's to the design of each of these kayak styles.
Sit-inside Kayak:
Sit-Inside Kayaks are designed in a way to allow the kayaker to be situated inside of the kayak hull in a cockpit. These kayaks are great for storing belongings and gear. They also provide shelter for your feet and other items that you do not want to get wet.
Most Common Use:
These kayaks are great for long travel or distance paddling adventures. Since they stow valuable belongings below where it is dry, this can be the best way to go far without having gear getting soaked.
Pro's:
Storage
Keep Dry
Storage Space
Enclosed Hull Design
Secures Kayaker
Con's:
Could be difficult getting back over if tipped
Must learn how to perform kayak roll
Skirt must be worn to prevent flooding with water
Requires additional gear
Great For:
Rivers
Streams
Lakes
Whitewater
Ocean
Overview:
These kayaks handle and track very well. Depending on the hull design, they can tip over easier if not balanced correctly. Overall great choice for a kayaker looking to go farther and longer while paddling.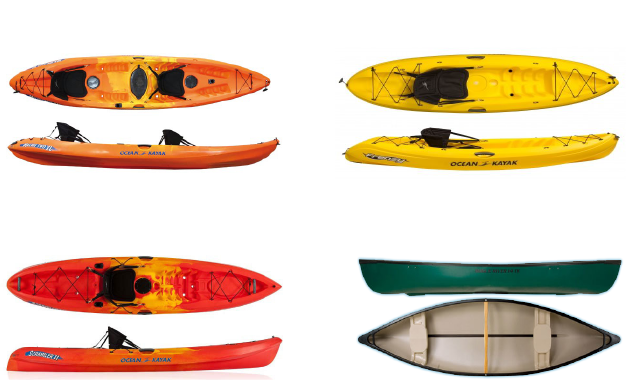 Sit-on-Top Kayak:
A sit-on-top kayak is designed to allow the kayaker to, in essence, sit on top of the watercraft. This means that the kayak hull is hollow and there is a space for the kayaker to sit while paddling.
Most Common Use:
These kayaks are a great option for a recreational kayaker looking to have a relaxing time on the water with minimal effort. A sit-on-top kayak is easy to transport and there is no worry about wearing a skirt to keep out water. These kayaks can be a little bit more of a wet ride since the water flows in and out, self-bailing.
Pro's:
Easy to maintain
Simple design
Durable
Hard to sink
Can handle waves
Self-Bailing
User-Friendly
Able to add on accessories
Con's:
Wet Ride
Not much storage
Short Distances
Great For:
Lakes
Open Water
Ocean
Beach
Fishing
Overview:
These kayaks provide much benefit and use to beginner and professional kayaker skill levels. Whether you are looking to paddle around the lake and go fishing or you want to tackle some waves, a sit-on-top kayak option might be best for you.
Kayak brands can vary greatly based on what their hull design. There are some kayak brands that offer the best of both worlds. Kayak manufacturers specialize in only one style of kayak, some offer many styles.
---
Lonestar Adventure Sports
If you are still unsure of what kayak style and type would best suit your needs.
Give us a call directly: 214-724-8311.
Follow us or Like Our Page to get recent updates of exciting paddling information!